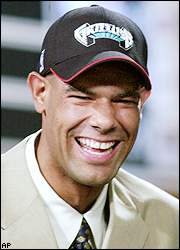 Shane with his cooter fake laugh



VS.



Nikoli




It's not just enough to give recognition to those that are most real - it is time to humiliate those that are not real.

The least real person this week was definitely Shane Battier. Don't get me wrong, I am a huge Shane Battier supporter. But what he said just escalated an already-bitter rivalry between him and Nikoloz Tskitishvili.

Shane has been infuriated since watching the 2002 Draft and seeing no-name Nikoli get drafted higher than he did a year before. The two have had epic battles in NBA Live. Shane usually prevails because of his fundamental basketball and the fact that Tish can't hit a shot in the 4th quarter.

But what Shane had to say this week was just a low blow. After Indiana Pacers forward Jermaine O'Neal came out and said the age minimum was racist, Shane spoke out and said he SUPPORTED the age limit. His reasoning:
1) College will benefit all of these players beyond basketball
2) He doesn't like the idea of young players taking the jobs of veterans.

Shane then followed that with his trademark cooter laugh (pictured above), which he patented with his "We're No. 1!" finger after the National Championship game.

Although he never said the word "Tish", "Nikoli", "Skeet" or any other alias of Nikoloz, this was obviously a direct shot at him. Tish never went to college and is a foreigner taking American jobs away - then pissing them away on the bench.

What led to the increased hostility? Odds are this is a direct result of the shot pictured below, when Tish layed the ball in on Shane - WHILE facing the opposite direction from the hoop. Definitely the most disrespect Shane has seen since Jason Richardson bounced the ball off his forehead in the Rookie/Sophomore All-Star Game.

But what really pissed Shane off is that it just wasn't fundamental basketball.




Tish with the backward shot