Let's be honest. Before the Notre Dame game, Prescott Burgess was a bust. Tom Lemming's 16th-best recruit in the nation in 2003, Prescott's has always looked lost out there.

That is until he picked off 2 Brady Quinn passes and almost took both of them to the house.

With Prescott and "Cashmere" being named the Big Ten Athletes of the Week, we started thinking about how lucky Michigan is to have two guys from Warren Harding High School, which is located near Youngstown (a.k.a. Tresselville).

Well, it turns out the person we might want to thank is none other than Maurice Clarett.

That's right. Apparently, Mo and Prescott were best friends in high school and dreamt of becoming Buckeyes together. That is until Clarett stole Prescott's girlfriend.

Don't believe us? Check out this quote from Tom Lemming in the Chicago Tribune this summer (dated Aug. 30, 2006, if you would like to look it up:

"The last in-state guy they really wanted but didn't get was (linebacker) Prescott Burgess, who went to Michigan. Why didn't he go to Ohio State? Because Maurice Clarett stole his girlfriend. That's not a rumor; it's true."
You can find even nastier rumors of a sex tape
here
and
here
(BTW, if it's true, can't wait for THAT to find its way onto YouTube...).
As if Clarett hadn't gone out of his way enough by entertaining us all summer, he is apparently single-handedly responsible for giving us our top recruit in 2003.
Wow, thanks Maurice.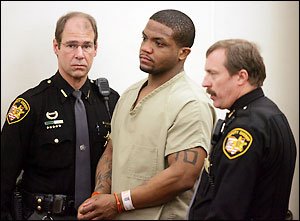 Mo: expect a "Thank You" note from The Realests as soon as you get back to your cell...
We wonder if Ron English treats Prescott like The Waterboy and just tells him to pretend he's hitting Maurice on every play...