The first month of 2006 has brought us plenty of real and unreal moments. Realness and Realety are things not easily defined - if you look them up in Webster's Dictionary you won't find definitions (granted, they aren't actual words, but still, they defy definition). Thus, the standards for deciding what is real and unreal are created 100% by The Realests (given our name, it is only fitting that we should have the first, final, and only word in this contest). There are many worthy candidates for both awards, but we've managed to find 5 front-runners in each. Keep in mind that the race is very tight and things could change in a heart beat. If you have any candidates you think are worthy, leave a comment:

Realest of the Year Candidates

The King


Super Bowl MVP??



Current odds: 5-1
Future prospects: Real
Analysis: We'll admit it. The first time we saw the King we were scared out of our minds. In fact, we ran away from our TV screens the next 6 times we saw the commercial. But Burger King really hit a gold mine with this ad campaign. At first the King was just creepy - we would see him staring into people's bedrooms at sunrise with that creepy, glazed look in his eyes. But then we realized he was only there to give them tasty breakfast sandwiches.

But we don't think anyone was ready for the King's leap into the NFL. Whether he was picking off Drew Bledsoe out of nowhere, hugging Don Shula, or torching the Vikings defense for a touchdown we were pulling for him all the way. If the Maloof Brothers were smart, they would sign a contract with BK to get the King as their official mascot. Could you imagine Ron Artest having a bad game, storming into the tunnel, and starting a brawl with the King? Who would win? The answer: Everyone. We all would win. Needless to say, we are looking forward to the King dunking on Shaq's face in a future commercial.

Woodley


Cute Dog or Devil Incarnate?



Current odds: 3-1
Future prospects: Very Real
Analysis: After the NY Post made dogs like him famous, its been hard to deal with Woodley. As of now, its clear that I hate the dog and the dog hates me (evidence: to date he has destroyed my iPod speakers, my PS2 controllers and wires, my posters, and my life). Its also clear that he regards Jim as his drunk but playful uncle; the kind that comes over during reunions with a flask and ends up roughing up one of the kids.

Well, Woodley has certainly gotten his revenge over the last couple of months. In only 7 short months on this planet, Woodley has managed to take close to 3 dumps a day in our apartment; urinate close to 452234 gallons on our floor; destroy everything in sight; and make our entire apartment smell like a bathroom.

We thought we had him beat when we neutered him (note: Coach Filice ignored our suggestion of just getting the procedure done in a back alley in Chinatown) but after a brief period of confusion, Woodley has returned to his rebellious ways. I just spent 10 minutes cleaning up a very pleasant mess that Woodley left for me. The future is bright for this kid.

Wes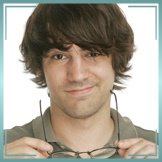 Gangster...



Current Odds: 20-1
Future Prospects: Slightly Real
Analysis: There's no denying Wes' real appeal. The Beauty and the Geek producers refer to him only as the "guy who tracks monkeys with lazers." Personally, we feel that there is nothing geeky about that. In fact, its much more real than going to law school or researching features for a sports television station. Wes' biggest flip is the fact that he's not a geek after all. In fact, after the last episode where Wes got a make-over, we're willing to say that Wes is better looking than a lot of people we know. This kid has come a long way from finger painting with "blood" during the interior design challenge. Plus, we give him a pretty good chance at hooking up with this chick:



Good job Wes




Chris Andersen


Already letting himself go...



Current Odds: 50-1
Future Prospects: Questionably Real
Analysis: The Birdman started out the year extremely hot, getting booted out of a league that has guys like Kobe Bryant and Allen Iverson as its marquee players. But what can C.A. possibly follow it up with? Our guess is a trip to Europe - busting your ass in a foreign country playing against the next Darkos, Markos and Zarkos is pathetic. Sorry Birdman, at least you can claim "January's Realest".

Laju


Nigerian Realety



Note: Laju has been included on this list simply because she asked to be. You too can earn internet fame if you simply talk to use and tell us you like the blog. Yes, we have that much power. Jim thinks that I am ruining the credibility of the blog by honoring Laju's request. I have a few answers for that. First, we have no credibility. Second, our greatest claim to fame is a film clip of Jim falling on a futon and breaking his head. Third, I hope you all remember this when we get famous - come to me when you want the handouts, not Jim.
Current odds: 8-1
Future Prospects: Moderately Real
Analysis: Laju is the only person on this list that we actually know. Even though she knows the 2 person committee that hands out the award, we don't think Laju needs any help to win the crown this year. In a year of knowing Laju, she has proven herself in many aspects: gets obnoxiously drunk, fights people, makes ridiculous bets, and somehow cheers for the 49ers.

This year, however, Laju has done the most real thing we could imagine: She's done nothing at all. The simple brilliance of this move would go unnoticed by some people, but we certainly can appreciate its subtlety. What has prompted this disappearance? We're not sure, but we have ideas. Years of cheering for the 49ers might have finally caught up to her. She might have finally fulfilled her promise of bagging Alex Rodriguez and disappearing with him (much like he disappears in big games). Or maybe she's just laying in the cut, waiting to shock the world with her next move. We don't know...

Unrealest of the Year Candidates

Cam


Wah wah beep beep



Current Odds: 4-1
Future Prospects: Too Unreal for Words
Analysis: There is one simple rule: Hov will not lose. The corollary to that rule is very simple: Respect the King. The Pink Panther violated both of those rules and is going to pay the price (and by that we mean he has a great chance of winning Unrealest of the Year). Not only was his diss song uninspired, but it got Juelz banned from the Def Jam building for a couple of days. We want Hov to come back with a diss, but until he decides to, we'll keep making fun of Cam.
Note: Jim used to try and convince me that Dipset was the next big thing. Draw your own conclusions.

The 12th Man (including Ken)


Full time jack move



Current Odds: 25-1
Future Prospects: Quite Unreal
Analysis: This is the perfect example of "marketing gone overboard." I blame the guy that thought of the 12th man for inspiring the people that came up with the Mach Fusion. Come to think of it, the only good tradition we can think of is "The Claw." If it makes Seahawks fans feels any better, we give a huge thumbs up to the Seattle foam heads and would really enjoy seeing one on Ken.

K-Fed


A douche by any other name...



Current Odds: 40-1
Future Prospects: Trying Really Really Really Really Hard to be Real
Analysis: Federline is a complete douche - we already know that. The only thing really going against Kev is that he is trying too hard. As much as we now hate Cam'ron, we can still respect lyrics like "Wah Wah Beep Beep" because we know there was no time or effort involved. He's gonna have to pull this one out of his ass by doing something like getting a face tattoo.

President Logan


We want Palmer back!



Current Odds: 12-1
Future Prospects: As Real as the Exact Opposite of David Palmer
Analysis: If someone told us that they had David Palmer killed we would immediately a) stick a towel down their throat Jack Bauer-style; b) cut their eyeballs out Jack Bauer-style; c) shoot them in the chest Jack Bauer-style; d) cut their arm off with a hacksaw Jack Bauer-style; or e) send that person's daughter into a hotel infested by a deadly virus Jack Bauer-style. We would not turn into whiny little bitches. Look for this season to end with Bauer shooting Logan "Chapelle-style".

The Lazy Monday Guys


Dick...


...riders



Current Odds: 3-2
Future Prospects: Ridiculously Unreal
Analysis: You should know by now that the one thing we hate is no-talent jackasses. These guys are the definition of no-talent jackasses. "Lazy Sunday" was a great idea and then these two douchebags just jack it and make it for the "West Coast"? These guys aren't funny (no, we aren't jealous...Our dog, Woodley, is more entertaining than these dopes)! The video is crap! And we aren't going to link to it because there's no reason why these guys should be famous! We bet that the same people that think this video is hilarious are the same people that think "Fratboy Missionaries" isn't going to make three trillion dollars. It's time to decide - who you with?